2018 Shipping Information
In compliance with current state laws, Merlo Family Vineyards is licensed to ship wine directly to consumers in the following states:
Arizona*
California
Colorado
Florida*
Illinois
Iowa
Maryland
Massachusetts
Minnesota
Missouri
Nevada
New Mexico
North Dakota
Oregon
Texas
Washington
West Virgina
Wisconsin
Wyoming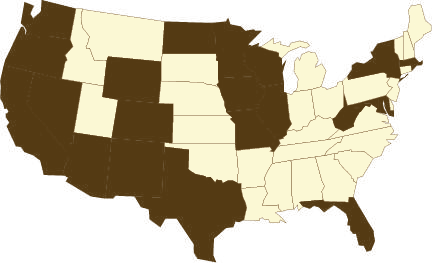 Shipping Rates
Charges listed include specialized shipping carton, FedEx standard ground rate service, as well as mandatory FedEx adult signature requirement.
1-3
Bottles
4-6
Bottles
7-9
Bottles
10-12
Bottles
Region 1

California Only

$16.00
$20.00
$24.00
$26.00
Region 2
AZ*, CO, NM, NV, OR, WA, WY
$18.00
$22.00
$30.00
$34.00
Region 3
IA, MN, MO, ND, TX
$20.00
$28.00
$36.00
$44.00
Region 4
FL*, IL, MA, MD, WI, WV
$20.00
$30.00
$40.00
$50.00
Terms and Conditions*
Florida has several "dry" counties, to which we cannot ship wine. The following counties may NOT be shipped to in FL. (Lafayette, Liberty, Madison, Washington)
By placing an order, the buyer authorizes Merlo Family Vineyards to act on buyer's behalf in arranging for transportation of the wine at buyer's direction. Alternatively, buyer may choose to pick up the wine at Merlo Family Vineyard's Tasting Room, or make independent shipping arrangements. For wine picked up at the Tasting Room, sales tax will be applied based on that location.
Prices of our wines do not include shipping/handling charges, the cost of which varies depending on destination, number of bottles ordered and choice of delivery options.
Merlo Family Vineyards, 2018.